March 9, 2022
Radiators no longer have to be an eyesore in your home. Nowadays, there are several ways you can hide or disguise them. There is even a large range of designer options available.
At Norwest Gas, we have multiple styles that will help keep your home warm while complementing your interior aesthetic. Let's take a look at your options below.
What are radiators?
Hydronic heating has been a popular home heating system across Europe and the USA for decades and is one of the oldest forms of heating. Hydronic heating works by pumping hot water from a boiler to a wall-mounted radiator that is designed to capture the heat from the water, to warm the room.
Radiators come in many designs and can be simple, more traditional convector fins or a flat panel design.
Warm to the touch, radiators are safe for kids, pets and the elderly and will not burn your skin.

What options do I have when it comes to radiator panels?
Traditional radiators are generally waist height convector fins, spaced closely together across the wall. As home decor styles have changed over the decades, there are now more options when it comes to selecting radiators. Allowing you to choose a solution that will blend into your home decor and not be an unattractive focal point in the room.
The traditional radiator now comes in a large range of colours to suit your tastes and can often be painted the same colour as your walls.
More modern radiators are now available including taller panels to fit a narrow wall or lower set units to preserve your view from the window.
How can I hide or disguise my radiator?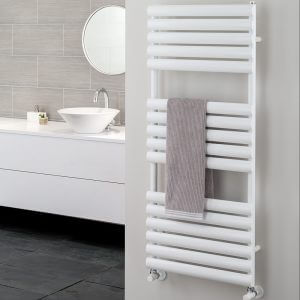 Some people like the classic look of the traditional convector fins and this can work well in a more rustic or industrial style of home. However, if you don't like the look of your wall mounted radiator, there are a few options to disguise or hide it altogether.
Magnetic covers are a great way to disguise your radiator. They are a sheet of metal with magnetic strips that will stick to the front of your radiator, creating a cover that can be a solid colour or printed with your favourite pattern or artwork.
The best way to disguise your radiator panel in your bathroom is to install a heated towel rail. This will not only warm and dry your towels, but it will also heat the room at the same time and will look like a standard towel rail.
In your main living areas, you may prefer to choose from the designer range of radiators. This will allow you to select from an assortment of beautiful mirrors, modern artworks and upmarket shapes and patterns. The designer range has something to suit most styles and will blend in seamlessly and function the same as the traditional radiator.
Painting your radiator the same colour as your walls is also a great option. Be sure to use paint that is made for metal surfaces and can withstand high heat. Talk to your paint professional about the best paint and prep options to use.

Using furniture such as hall tables or placing chairs in front of the radiator can change the focal point of the room and act as a distraction. This allows the radiator to blend in without being totally covered. You may also want to have a custom piece of furniture designed to hide your radiator and it can also have a dual function as a hall or lamp table.
---
When it comes to radiators, you are only limited by your imagination, the range of ready-made radiators is vast and there is something that will suit most styles. Talk to Norwest Gas about the best radiator options for your home by calling them on 1300 499 169.